Yesterday I had an opportunity to speak to more than 1,000 members…..
Posted On November 15, 2012
November 15, 2012
Yesterday I had an opportunity to speak to more than 1,000 members of the Blue Diamond Almond Growers Cooperative at our 102nd annual  meeting in Modesto. This event is something I look forward to each year.
Many of the meeting highlights were captured by the  Sacramento Bee in today's paper. I'd like to share the story with you.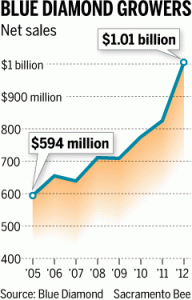 Blue Diamond hits $1 billion in annual sales
mglover@sacbee.com
Published Thursday, Nov. 15, 2012
Over more than a century, all those California-grown almonds have added up.
Blue Diamond President and CEO Mark Jansen, speaking Wednesday at the Sacramento-based cooperative's 102nd annual members meeting in Modesto, said Wednesday that Blue Diamond joined the $1 billion club with a record sales revenue year that concluded Aug. 31.
Blue Diamond also announced plans to add 100 jobs in Turlock by May next year as it completes the first phase of its new manufacturing and processing plant in Stanislaus County.
Jansen, who came to Blue Diamond two years ago as a brand specialist with a global vision, said the cooperative's international presence and sales have soared "in two amazing years."
"We are winning in the marketplace by executing our superior business model, enhancing margins and growing our value-added businesses," Jansen said. "And we will continue to invest in new technologies that will lower costs and increase processing yields for higher levels of profitability year after year."
Clinton Shick, chairman of Blue Diamond's board, also told growers that they received record payments on the 2011 crop of $670 million – a return that was 18 cents per pound higher than on the 2010 crop. "Revenue per acre also exceeded the previous 2005 record by 19 percent," Shick said.
Jansen predicted at last year's meeting that Blue Diamond would become a $1 billion-a-year business within the next two to three years. As it turned out, it happened in just one year.
In 2011, Blue Diamond reported sales of $825 million.
Blue Diamond is owned by 3,000-plus growers. It has about 1,000 employees in Sacramento and about 400 at its processing facilities in Salida.
Much of the talk on Wednesday centered on the Turlock facility, the largest capital improvement project in Blue Diamond's history.
Having purchased 88 acres in Turlock in fall 2011, Blue Diamond is working on the first phase of a new manufacturing plant at North Washington and Fulkerth roads.
Phase one, which recently topped out at the roofline, is scheduled to be completed in May 2013, with about 200,000 square feet for manufacturing and delivering almond products worldwide. Equipment testing is set to begin in February.
The three-phase project eventually will encompass 500,000 square feet over the next 15 years. Jansen is already looking ahead to the time when Blue Diamond will double its processing capabilities and touch $2 billion in annual sales in the near future.
He said the ongoing goal is Blue Diamond's "transformation to a global branded food company." Over the past year, Blue Diamond introduced products in the United Kingdom, France and Australia.
During the Summer Olympic Games this past summer in London, Blue Diamond launched a TV/marketing blitz that drew global attention. Jansen said the "Get Your Good Going" campaign resulted in a 43 percent spike in Blue Diamond sales during the Games.
The co-op's local roots run deep. Blue Diamond's precursor, the California Almond Growers Exchange, was formed at the Hotel Turclu in Sacramento on May 6, 1910.
Four years later, CAGE built a humble almond hulling and shelling plant on C Street in Sacramento, the start of Blue Diamond's current facility, which sprawls over 90 acres.
© Copyright The Sacramento Bee. All rights reserved.
Call The Bee's Mark Glover, (916) 321-1184.