Sharing an Extraordinary Legacy
Posted On February 5, 2019
The almond industry is booming. Blue Diamond and our 3,000-plus family of growers are preparing to handle over two billion pounds of California's almond crop in the coming year, and there is a growing interest in people wanting to learn more about this healthy product.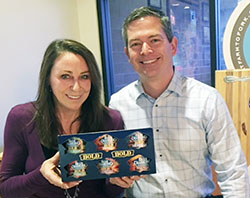 I had the opportunity to be a recent guest on Nor Cal Names with Kat Maudru. Kat is a Sacramento radio personality who hosts this weekly podcast sharing stories from some of Northern California's biggest names.
During this episode, I discuss Blue Diamond's 109-year-old history and the significance of the cooperative to California almond growers; how we have been successful in creating an environment that gives our grower-owners profitable returns, valuable services and pride in being part of Blue Diamond; and how almond innovation is continuing to drive the economies of the Central Valley. I also talk about the success of our brand in the U.S. and our expanding reach to consumers around the world.
"Blue Diamond is an extraordinary legacy that continues to carry on and create value for the cooperative and the rest of the industry. It's not just about making Blue Diamond successful; it's about lifting the overall almond industry at the same time."
Near the end, you'll hear interesting facts about almonds and what I consider to be the "weirdest" almond flavor.