Quality of Life Starts with a Real Quality Drink
Posted On March 4, 2019
I had the pleasure to be in Thailand today and present at a special event highlighting the journey of the Blue Diamond brand in the highly competitive and richly dynamic Thai market. The event, "Alive in Almond Land," celebrated the healthy benefits of Blue Diamond Almond Breeze Almondmilk and launched our new campaign theme, "Quality of Life Starts with a Real Quality Drink."
Joining me to discuss the success of our partnership with Thailand's Heritage Group were Raj Joshi, Senior Vice President of Global Consumer for Blue Diamond, and Vittavat Phonphaisan, Vice President of Heritage Group. We also had an opportunity to share with those in attendance the future of the almond milk market in Thailand and how Blue Diamond's integrated marketing strategies has promoted a brand that is at the forefront of a global trend for healthy and convenient consumer products.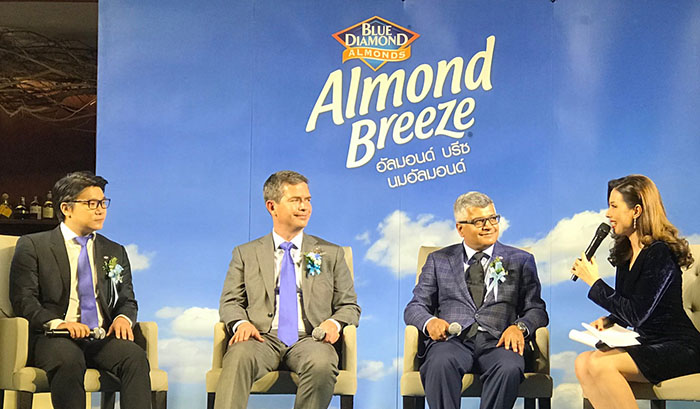 Since the launch of Almond Breeze in Thailand just three years ago, it has proven to be an incredible market and I am proud that after such a short time we have become a leading almond milk brand in the country. We have seen significant growth in our retail program in the Thai market, where we are currently in the number one position in both volume and value sales. Our strong partnership with Thailand's Heritage Group demonstrates our commitment to setting and maintaining global standards and bringing consumers the finest California almonds that deliver on quality and nutrition.
With product displays like these, I look forward to the future of Blue Diamond in Thailand!