"It's déjà vu all over again". Yogi Berra
Posted On June 4, 2013
June 4, 2013
From the Desk of  Mark Jansen: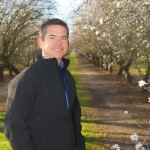 One year ago, NASS released its May subjective estimate of 2-billion pounds for the 2012 crop and pricing softened. At that time I described why a 2-billion pound crop was insufficient to keep up with demand as growth would be capped by supply and inventories could fall to record low levels. I concluded that pricing for the 2012 crop would need to increase over 2011 to bring supply and demand into alignment.
With the 2012 harvest we discovered our crop was less than 1.9-billion pounds. As a result, demand has been limited by and will roughly equal supply. It is a classic demand curve where prices increased to reduce demand, finding equilibrium in a market with less supply. Said another way, with not enough almonds to sell, markets bid up the prices by over a $1.
"It's déjà vu all over again," Yogi Berra said after witnessing Mickey Mantle and Roger Maris repeatedly hit back-to-back home runs with the Yankees in the early 1960s. I appreciate Yogi's quote as I consider the current almond market. The NASS 2013 Subjective estimate is once again 2-billion pounds, prices are off their highs, and my analysis of the market is that demand growth will be limited by supply, ultimately resulting in rising prices.
With a late harvest in 2010 and 2011, the almond industry learned that seven to nine weeks of supply was insufficient to cover September and October demand. As a result, prices rose steadily in 2010 and dramatically in 2011 with harvest also below expectations. We will likely exit 2012 with about 7 weeks of supply; this may be the minimum carry over inventory. It is unfeasible for the industry to sell all of its inventory. For example, at Blue Diamond we need to keep manufacturing lines running, maintain product in distribution and provide sufficient product assortment to bridge the gap between crop year-end and availability of new crop pollinators for production.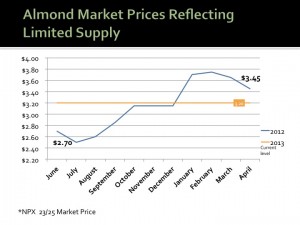 The 2013 crop is now trading at a $.25 discount to current 2012 prices. On a seasonally adjusted basis these prices look good, but the last several years pricing patterns suggest better pricing will be available after harvest.
Yogi appreciated his record-setting teammates, but his "déjà vu all over again" comment suggests he had also come to expect the extraordinary. The same could be said for my future almond industry forecast. I would not be surprised if we hit another home run in 2013.
Mark Jansen
President & CEO
Blue Diamond Growers