Blue Diamond Growers rings up $1.2B in revenue
Posted On November 21, 2013
Fantastic 103rd Blue Diamond Annual Meeting!
BY MARK GLOVER
November 20, 2013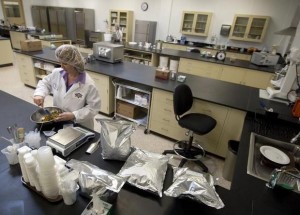 MODESTO — California-grown almonds continue to be a red-hot commodity for Blue Diamond Growers, which will report record income of $1.2 billion at its annual meeting in Modesto today.
President and CEO Mark Jansen will talk about the performance in the fiscal year that ended Aug. 30. The revenue is up $189 million from 2012, the first time Blue Diamond crossed the billion-dollar threshold. Income totaled $825 million in 2011.
Blue Diamond, a 103-year-old cooperative owned by Central Valley growers, also will report record grower payments of $828 million during today's formal presentation at the DoubleTree Hotel. Per-pound almond prices have been strong in recent months for this and other processors.
The annual report includes the first few months of processing at Blue Diamond's plant in Turlock, which opened in June. The Washington Road plant slices, dices, grinds and blanches almonds after they get initial processing at plants in Salida and Sacramento.
In 2011, Jansen predicted that Blue Diamond would become a billion-dollar company in two or three years. It happened in one. Now, the company has taken a big step toward Jansen's next target, the $2 billion level, and its growth track shows no signs of slipping.
"I have been surprised by how quickly it has happened, but on the upside, that's the power of the Blue Diamond brand," Jansen said. "We're growing at a 20 percent compound annual growth rate."
Blue Diamond's rapid rise is attributed to a proliferation of new almond-based products and an aggressive expansion of those products into international markets. The push was envisioned by Jansen, a marketing/brand specialist, when he came to Blue Diamond three years ago with a goal of transforming Blue Diamond into a "global branded food company."
To that end, it has unveiled a blizzard of products over the past several years, everything from its Almond Breeze nondairy beverage (including iced coffee variants) to various Nut Thins crunchy crackers to fruit-flavored almonds (blueberry, strawberry and raspberry). Several coffee-flavored almond snacks also are offered.
As products have diversified, Blue Diamond has expanded its reach into China, Japan, the United Kingdom, Australia and France to name a few. It has been cited as a primary reason that almonds are now California's No. 1 food export.
During its international push, Jansen said, the cooperative has discovered that different countries have varying tastes when it comes to almond products. What is popular in one country might not be in another.
And Blue Diamond has succeeded in creating demand in markets that previously were not acquainted with almonds. In the United Kingdom, for example, Jansen said the popularity of Blue Diamond-branded items has grown through steadfast product introductions and marketing. Jansen said Blue Diamond has won over a UK population that long snacked on cashews and peanuts.
"We're taking what we learn in different areas and replicating it in various markets," Jansen said. "We've discovered interesting things across geographic categories … coming up with new ideas."
Blue Diamond also has drawn attention with surgical marketing campaigns. The cooperative launched a TV/marketing blitz during the 2012 Summer Olympic Games in London. Jansen said that "Get Your Good Going" campaign resulted in a 43 percent spike in Blue Diamond sales during the games.
Blue Diamond has similar plans for the upcoming 2014 Winter Olympic Games in Sochi, Russia. The cooperative just announced a partnership with the U.S. Ski and Snowboard Association to serve as the official snack nut of the U.S. ski, snowboarding and freeskiing teams. Expect a commercial blitz during Olympic qualifying events leading up to the games and during the Feb. 7-23 Winter Olympics coverage worldwide.
Blue Diamond's growth at home and abroad also was fostered by two significant milestones this year.
In March, the cooperative opened a new, 6,500-square-foot Almond Innovation Center amid its sprawling complex of buildings along C Street in Sacramento. That center aims to lead Blue Diamond's development of even more new almond products. Blue Diamond also wants it be a destination for global food companies exploring the potential benefits of almond products worldwide.
In June, Blue Diamond christened the first phase of its new plant in Turlock. The 200,000-square-foot segment represents 40 percent of a three-phase project on 88 acres purchased by the cooperative in 2011. The first phase supports growth of the cooperative's almond-ingredients business, and the second phase will be developed as demand for Blue Diamond products increases.
Jansen said the state-of-the-art Turlock plant has prompted repeated questions about Blue Diamond's future in Sacramento, where it employs about 900. This week, he said "we are absolutely not moving our headquarters out of Sacramento."
Blue Diamond employs about 1,300 overall. Call The Bee's Mark Glover, (916) 321-1184.