Blue Diamond Almonds Revs Up Global Push
Posted On November 19, 2012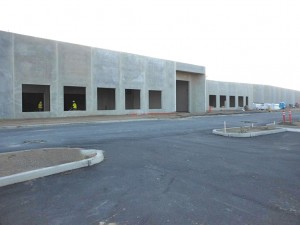 This story is taken from the Sacramento Bee.
Blue Diamond revs up global push
By Mark Glover
mglover@sacbee.com
PUBLISHED SUNDAY, NOV. 18, 2012
With Sacramento roots dating back more than a century, Blue Diamond Growers is about as local as you can get.
But its push to become a global brand is making international headlines and driving sales, which have soared $300 million over the past two years to top $1 billion for the year ended Aug. 31.
At the cooperative's 102nd annual business meeting last week in Modesto, the ambience resembled the heyday of General Motors when it was churning out desired cars and record profits.
Assembled growers – the cooperative is owned by more than 3,000 of them – smiled at the news that they received record payments on a 2011 crop of $670 million – a return 18 cents per pound higher than the 2010 crop.
President and CEO Mark Jansen, who came to Blue Diamond two years ago as a marketing/brand specialist with a global vision, said the ongoing "transformation to a global branded food company" has been nothing short of "incredible."
And for Sacramento, Blue Diamond's success is a source of civic pride.
Blue Diamond's precursor, the California Almond Growers Exchange, was formed at the old Hotel Turclu in Sacramento on May 6, 1910. Four years later, CAGE built a humble almond hulling and shelling plant on C Street in the capital, ground zero for Blue Diamond facilities that now sprawl over 90 acres.
Barbara Hayes, president and CEO of the Sacramento Area Commerce and Trade Organization, said Blue Diamond "is a gem in the region on many different fronts, not only with a Sacramento headquarters for over a hundred years, but just the fact that they employed so many people for such a long time. They've employed generations of families.
"They add tremendous value and brand identity."
Blue Diamond also represents a morale booster for a regional business community that saw another billion-dollar player, Waste Connections of Folsom, relocate to Texas last year, and absorbed the recent announcement that another longtime food processor, the 65-year-old Campbell Soup Co. factory in south Sacramento, was destined for closure.
Blue Diamond has long been a presence in California's massive agriculture industry, but it embarked on a decidedly global plan in July 2010 with the hiring of Jansen.
He came to Sacramento from Schwan Food Co. in Minnesota, where he was credited with boosting the firm's food-service division by marketing brands to schools, restaurants and other customers.
In 2010, Blue Diamond was doing nicely, making most of its revenue via industrial, bulk sales of almonds to food manufacturers. But right away, Jansen emphasized global branding and aggressive development of new products, including its Almond Breeze nondairy beverage and nut-based crackers.
Blue Diamond had marketed products overseas in its past – including groundbreaking efforts in the old Soviet Union and China in the 1970s – but the global outreach accelerated rapidly with Jansen's arrival.
Last year alone, Blue Diamond introduced products in the United Kingdom, France and Australia. Demand for California-grown nuts continued to grow in the lucrative China market.
California dominates the world almond trade, and Blue Diamond is the biggest player in the industry. Jock O'Connell, international trade adviser with Beacon Economics, a consulting firm with offices in the Bay Area and Los Angeles, said the company started thinking globally several decades ago.
"One of the things that's impressive is the extent that they teach people around the world to adopt almonds to their regional cuisines," he said. "They work with shops and organizations and people who are cooking at home."
For Northern Californians, the cooperative's redoubled international push likely was most evident last summer with a TV/marketing blitz during the Summer Olympic Games in London.
Jansen said the "Get Your Good Going" campaign resulted in a 43 percent spike in Blue Diamond sales during the Games.
Jansen has likewise asserted himself in the political arena. Last year, he actively supported the Obama administration's initiative to secure free trade agreements with South Korea, Panama and Colombia, saying more overseas markets benefited Blue Diamond and California farmers.
Blue Diamond's international push is so profound that Jansen is already talking about the co-op passing the $2 billion annual sales figure in the near future.
The driving force in that effort will be in Turlock, where Blue Diamond purchased 88 acres last fall and announced plans to build a major manufacturing/processing facility.
Phase one of the project recently topped out and is scheduled to be completed in May 2013, with about 200,000 square feet for manufacturing and delivering almond products worldwide.
Blue Diamond announced last week that up to 100 employees will be hired for the Turlock plant by May.
The cooperative touts the Turlock facility's "state of the art almond processing technology that will receive natural sized and graded almonds from the Sacramento and Salida plants for blanching and cutting for global ingredients customers."
Simply put, California-grown almonds that end up in numerous other products worldwide will be processed at a much faster rate in Stanislaus County.
Ulli Thiersch, who is overseeing the Turlock construction project and will be the plant's manager, said the processing operation will be a huge "competitive advantage for Blue Diamond."
The three-phase project eventually will encompass 500,000 square feet over the next 15 years.
Amid this largest capital improvement project in Blue Diamond's long history and a global marketing push, Jansen has reassured growers that he is not being careless with all that cash.
He noted at the Modesto gathering last week that Blue Diamond does not try to "time" the almond market, betting on a date when prices might hit the maximum. "We're not taking risky positions with your almonds."
He also reassured growers that the long-term cost of building the Turlock facilities will have a small effect on returns growers receive for their crops.
"When you invest in something good, it only gets better," he said.
Blue Diamond points to the Turlock plant as key to the co-op's future, but Blue Diamond's Sacramento presence remains strong.
It employs about 1,000 locally, compared with about 400 in Salida.
Also, Blue Diamond has made a further commitment to Sacramento with the scheduled January opening of its new Almond Innovation Center at its local headquarters.
The center aims to increase the speed of innovation and lower the cost of creating new products. Blue Diamond experts will be working with food companies worldwide to include almonds in their products.
BLUE DIAMOND GROWERS AT A GLANCE
Founded: 1910 Employees: 1,400, about 1,000 of those in Sacramento Headquarters: 1802 C St., Sacramento
Facilities: A small hulling and shelling plant started in 1914 in Sacramento is now touted as the largest nut-processing plant in the world, covering 33 blocks on 90 acres. Blue Diamond also operates a smaller processing plant in Salida and several receiving stations that gather nuts for shipping to the processing plants.
Growth track: Having purchased 88 acres in Turlock in fall 2011, Blue Diamond is working on the first phase of a new manufacturing plant at North Washington and Fulkerth roads. Phase One is scheduled to be completed in May 2013, with about 100 employees and 200,000 square feet devoted to manufacturing and delivering almond products worldwide. The three-phase project eventually will top out at 500,000 square feet over the next 15 years.
Structure/market share: The cooperative is owned by 3,000-plus growers. California grows more than 80 percent of the world supply of almonds.
Revenue: Blue Diamond just reported record sales revenue of slightly more than $1 billion for its year ended Aug. 31.
Reach: California's latest almond crop, estimated to come in at around 1.9 billion pounds this year, is marketed to all 50 states and more than 90 foreign countries, making almonds California's largest food export.
Products: Canned and packaged almonds of various types, oven-roasted almonds, Nut Chips, Nut Thins, Almond Breeze beverage, cooking/baking almonds and other nut products.
Coming soon: Blue Diamond's Almond Innovation Center, scheduled to formally open in January in Sacramento, will focus on development of more products and help food companies looking for new ways to include almonds in their offerings.
Marketing milestone: The co-op's 1986 television commercials featuring almond growers waist-deep in almonds saying, "A can a week, that's all we ask," became nationally recognized.
More information: www.bluediamond.com.