Blue Diamond Almonds, Industry Update – February 13, 2015
Posted On February 13, 2015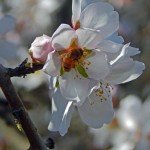 February 12, 2015
The January Almond Board of California (ABC) Position Report confirms West Coast port congestion has taken center stage in the    California almond industry. While the work slowdown has been evident since November, the situation has escalated substantially in recent weeks. Long lead-times to deliver goods through West Coast ports has caused domestic handlers to look toward East Coast options, putting them at a competitive disadvantage to suppliers shipping product from Spain or Australia. (For more information, see Western Growers' press release here)
Record January commitments for the industry of 256 million pounds are countered by monthly shipments dropping 28%. Short-term demand is at record levels, but execution has not been this hampered since 2002. The light January export shipments are far more reflective of port congestion than they are of underlying demand.
The ABC January data confirms a 2014 crop of 1.85 billion pounds. The total 2014 supply of 2.16 billion pounds is nearly 70% committed. Welcome bright spots recently include strong demand from China, India, Middle East, and the U.S.
Prices through late December and January have been firm to rising, reflecting strong demand. Light export shipments threaten to create shortages of forward goods in the near-term. While most markets are covered through early spring, delivery time for many export destinations is uncertain. Even after a resolution of the ongoing West Coast labor negotiations, it will take 60 to 90 days to recover normal service levels.