Blue Diamond Almonds – Consolidated Almond Harvest Report
Posted On September 3, 2013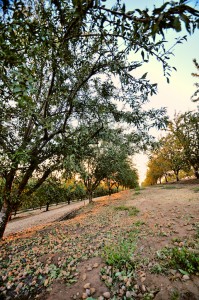 September 3, 2013, Sacramento, California
This report covers conditions and observations made between Monday, August 5 and Sunday September 1, 2013. The next report is scheduled for Monday, September 30, 2013. However, in the event of any significant occurrences prior to that date, this site will be updated as soon as possible.
Comparatively mild temperatures prevailed in the region during August, providing almond growers with comfortable conditions for the 2013 harvest.
Following three years of delayed harvests, especially in 2010 and 2011, the 2013 Nonpareil harvest began on a more normal time frame. Operations began in earnest throughout the region during the period and are running at a fever pitch.
Observers are reporting that the Nonpareil is shaking very cleanly and that growers are moving through their orchards in quick fashion. In areas of the northern region elevated humidity levels have slowed the drying process slightly, leaving the hulls slightly "leathery". As a result, growers there are leaving the crop in the fields a few days longer to allow for additional drying time. Quality of the almond crop harvested thus far has been reported as very good, with low reject levels observed. As predicted, kernel sizes are running towards the smaller end of the spectrum.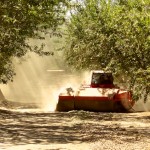 In the central region, examples of Carmel varieties dropping from the trees prior to splitting have been noted.  The early maturing pollenizers are  complicating the harvest for many of the areas almond growers, who normally provide their orchards with an irrigation following the Nonpareil harvest, prior to shaking the next variety.  Growers are applying the smallest amount of water possible prior to shaking the next variety in an effort to prevent moisture stress while still allowing them to begin shaking in a timely manner.  While those with drip irrigation systems are able to provide their trees with some water during the harvest, others must wait until the Nonpareil has been removed from the orchard. Weather conditions during the period have largely supported these efforts and growers have been rapidly directing harvested product into huller/shellers or to stockpile storage for shelling when the capacity becomes available.
Various pollenizer varieties are maturing at accelerated pace, inspiring growers to push the Nonpareil harvest as quickly as possible. Indeed, some have noted that the only factor limiting the pace of the almond harvest has been the amount of equipment available to put in the fields.
As growers complete the harvest of individual plantings, critical post-season irrigations will be completed and crews will be directed to the orchards to begin pruning and other required post-harvest activities.