Blue Diamond Almonds Boom Report – February 10, 2014
Posted On February 10, 2014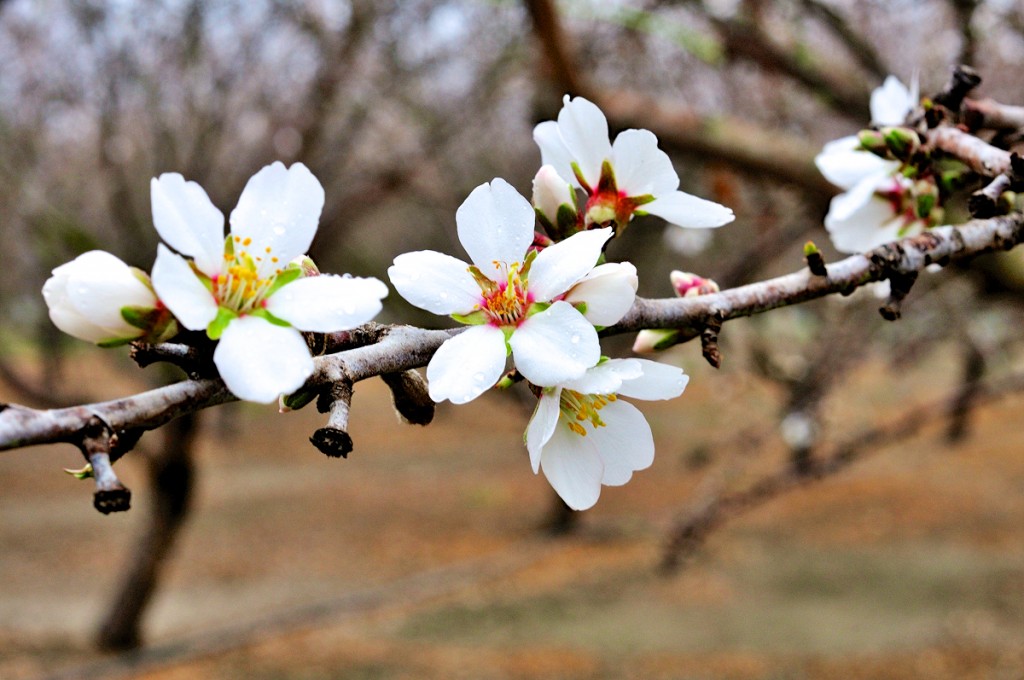 This report covers conditions and observations made between Monday February 3 and Friday February 7, 2014.
Wet weather made an encore appearance in the Sacramento Valley during the week as the first of a series of storms forecast to last through the coming weekend passed through the region.  Morning lows on Monday, Tuesday and Wednesday morning dropped into the upper 20's and lower 30's under clear skies. However, the approaching clouds buffered the morning temperatures on Thursday and Friday, holding readings in the low to mid 40's in all areas of the region. Daily maximum readings cooled during the period from their greatest values in the mid and upper 50's as the period began, dropping into the upper 40's to lower 50's by Friday afternoon. Official rainfall totals up to Friday morning ranged from 0.4 to 0.6 inch, with growers reporting receiving as much as 0.75 inch.
In the northern region observers are reporting that the relatively cool temperatures experienced over the past few days has slowed bud development, inhibiting the progression of the bloom up to this point. Bud development in the central region continues under increasingly cloudy skies. Only the most advanced examples of the Sonora and Avalon varieties are presenting open flowers at this time. Observers in the southern region are reporting a scattering of open flowers across the tops of advanced examples of the Sonora, Nonpareil and several California type varieties. The greatest amount of open bloom is found in the Sonora variety and the few remaining plantings containing the Neplus variety in the Kern County area.
The cold temperatures early in the week, coupled with the advanced stages of bloom along the west side inspired some growers there to send aircraft over their orchards to mix the warmer air overlying the fields with the colder air within the orchards, thus protecting the flowers from damaging temperatures. Observers have noted that growers with susceptible varieties also began disease treatment programs prior to the arrival of the most recent storms.
Beekeepers could be found scurrying though the region's orchards placing hives in the fields. Observers have noted that many hives are yet to be delivered and that growers are expecting deliveries over the weekend.
While the rainfall we have received is helpful, it has not done much to alleviate the drought and prospects for the coming growing season.
To view the comprehensive bloom report visit  http://www.bdingredients.com/blue-diamond-california-almond-bloom-report-feb-10/  by clicking here.