A New Year, A New Decade
Posted On January 23, 2020
Happy New Year! It is the beginning of a new decade and continued optimism for Blue Diamond Growers. In 2020, we also celebrate the co-op's 110th anniversary. It all started on May 6, 1910, with nine local organizations coming together to form the California Almond Growers Exchange. This was just the beginning. Now, the co-op is known around the world as Blue Diamond Growers and our brands stand for progress and innovation.
2020 is also my 10th year serving as your President and CEO. As I reflect on the past decade, I'm proud of the results achieved by your Blue Diamond team. It is a privilege to have had stewardship over a team that has demonstrated ever-increasing capability and a desire to succeed in support of our growers. The Blue Diamond team has changed over the years, but we've established a great system that fosters pride and collaboration amongst our team members. This system is moving our business to the next level.
For the upcoming year, we have established goals that will continue to set our cooperative apart from the rest of the almond industry. Our commitment to delivering industry-leading returns is always a driving goal. We are also committed to growing our brands, building on existing strengths, and expanding into new markets for Blue Diamond. We aim to grow our sales of the value-added manufactured almond market through our almond ingredient sales and to expand our innovative product offerings, both in the United States and abroad. For example, take our launch of Blue Diamond® Almonds Protein Powder. This versatile product sets a new standard for consumers who are seeking delicious, plant-based products. By showcasing the benefits of almonds in innovative ways, we are building Blue Diamond's reputation in the industry and growing the demand for our products.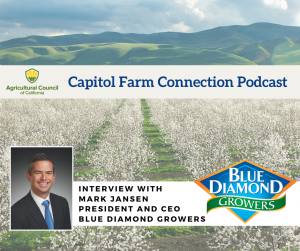 Given that this a particularly meaningful decade for Blue Diamond, I had the opportunity to sit down with Ag Council of California President Emily Rooney for a taping of their Capitol Farm Connection podcast and share many great stories about our co-op. We discussed Blue Diamond's long-term goals and what drives our commitment to be a growth business. This guided the conversation to innovation, expansion of our facilities, global markets, and our leadership in the industry. The partnership between Blue Diamond and the Ag Council is more than 100 years strong, so I was honored for this experience. To hear the entire interview, visit the Ag Council's Website at www.agcouncil.org/capitol-farm-connection-podcast
As I hope you can see, we are excited to make this next decade the best one yet for Blue Diamond Growers. Our 1,700 team members come in each day knowing and appreciating that they work for the most dedicated and innovative almond growers in California. On behalf of our team, I wish you a happy, healthy, and successful 2020.
We look forward to the future with every expectation that The Best is Yet to Come!