Blue Diamond Almond Bloom Report – February 20, 2013
Posted On February 20, 2013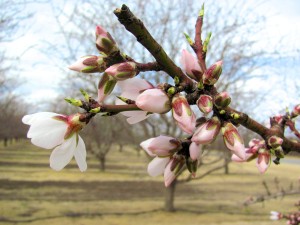 February 20, 2013
Blue Diamond Almond Bloom Report –
A fast moving, but fairly potent weather system passed through the region this week. Morning low temperatures were heavily influenced by the degree of cloud cover at sunrise, with areas having fewer clouds dropping into the mid 30's while those experiencing heavier cloud cover dipping only into the lower 40's. Maximum temperatures were reported in the lower 50's. However, these values were short-lived as the cold air accompanying the storm quickly dropped temperatures back into the mid 40's, aided by brisk winds.
Almond orchards in the Sacramento Valley experienced cold conditions which reduced the pace of bud development. Observers are reporting that the almond bloom in the central region has assumed its characteristic geographic pattern, with orchards along the west side of the region pulling slightly ahead of those in the balance of the region. While Sonora plantings along the Interstate – 5 corridor are presenting 5% to 15% of their flowers for pollination, plantings on the valley floor and eastern foothills are just beginning to exhibit a dusting of open flowers along the tops of the trees. All other varieties are exhibiting the same pattern of development.
In the north, the normal geographic separation in almond bloom development is becoming more evident this year as orchards along the west side of the valley move ahead of those in the Butte County area. Even along the west side, observers are reporting that plantings from Colusa north are running ahead of those in Yolo and Solano Counties. In all areas, however, the Nonpareil is being preceded by the California types and is followed quite closely by the Carmel.
As in the other growing regions, cold conditions have slowed the pace of bud development in the southern San Joaquin Valley. Greatest movement over the past 24 hours has been in the evolution of the earlier stages of development; from dormant to green tip and green tip to pink tip. Observers are reporting that a number of Nonpareil plantings are now presenting a scattering of their flowers for pollination. These plantings are on average led by the various California type varieties and in many cases by the Monterey.
Growers are monitoring the weather closely, in light of the cold nature of the Tuesday's storm. While the current stage of bud development is quite tolerant of cold, temperatures in the mid 20's could cause some degree of damage and growers will be watching frost forecasts later today for indications of any problems. Those with water available will run their irrigation systems if conditions require protective measures.
Look for the next almond bloom update soon.
Note: Reported temperatures in Fahrenheit.